The first owner of Trewennan was the Rev A. A. Wellington, who was the governor of Healdtown, a mission school near Fort Beaufort. He arrived in South Africa in 1900 as a minister / missionary and purchased the property in 1932, and it stayed in the family until 1969.
Both Trewennan and Redwood, and possibly Mistlea (neighbouring properties), were initially owned by Rev Wellington. Trewennan and Redwood were the only dwellings in the lane and therefore Trewennan Lane was named by him. It appears that his grandmother's family, the Hockins, lived on a farm called Trewennan, near St Teath, Cornwall. He most likely had some happy memories of the place, for him to have chosen the name Trewennan for his holiday house at Hogsback.
The original Trewennan house was made of an inner corrugated iron shell, with wooden cladding on the outside. The house burnt down in 1960, possibly due to a fire that was started by an old gardener who had broken in and had probably knocked a candle over. The house was never rebuilt, and from 1960 – 1969 the land was left unattended, allowing wattle to take over from the beautiful gardens and orchard.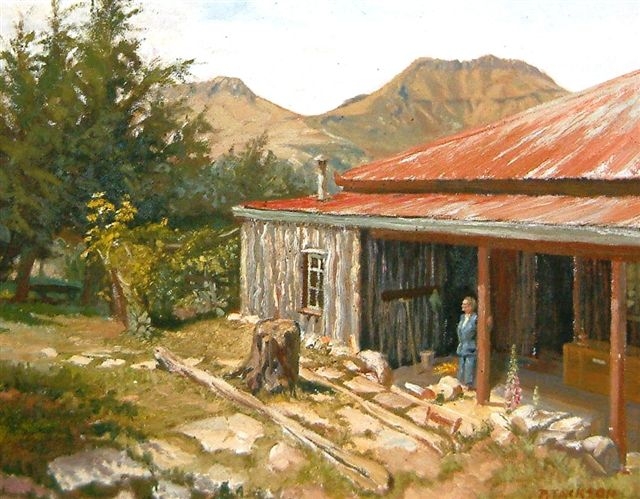 A painting of the original Trewennan house
Rev Wellington would hold church services in the Trewennan house, as well as an open air church - just like the one at the Arboretum with huge logs used for the seating, in the forest on Trewennan land. In 1940 one of his children, Lylie, was married in this open air church and the guests then walked back to Trewennan house for the reception on the lawn. One of the grandchildren, Heather, was christened in the bird bath in the Trewennan garden. Rev Wellington and his family would spend free weekends and holidays at Trewennan as it was the family's only permanent home as the Governor's house at Healdtown belonged to the church.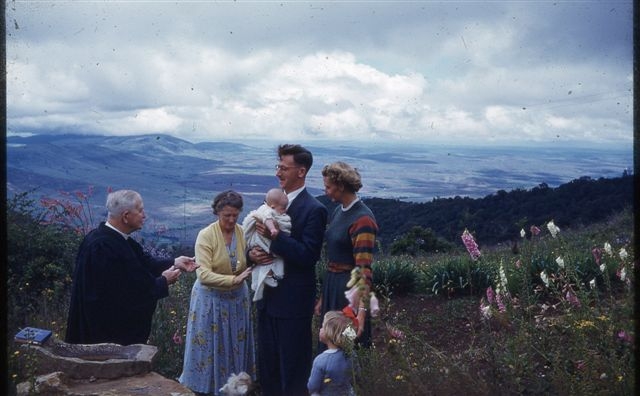 Baptism in the birdbath on the property
Rev Wellington died in 1944, and the property was left to one of his daughters, where it was used as a holiday house until it burnt down. All that remains from the Wellington era is the old bread oven in the front garden.
In 1969 the property was purchased by Francis and Violet Hunter, who were the owners of Strand Outfitters, a menswear shop in East London. The current Main House and cottage were built from 1969 – 1971. The Main House has changed very little since its original construction, and the only significant change is that the single garage was altered to form the current dining room. The bathrooms and kitchen have all been upgraded over the years.
After the Hunters, there were three more owners, before the property was purchased by John and Susan Davies in 2013. Susan Davies is one of the grandchildren of Francis and Violet Hunter. She has fond memories of visiting her grandparents over holidays as child. The property is currently used for self-catering accommodation.